R2-D2 with Wireless Web Cam: The Star Wars Spy Robot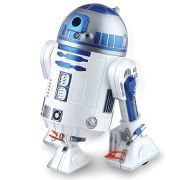 This one is for Star Wars geeks and R2-D2 fans. The new 30th anniversary edition of the R2-D2 bot, just became available for purchase.

Though it looks similar to the voice activated R2-D2 edition we featured earlier, the R2 D2 bot with Wireless Cam masquerades as a secret spy robot with a 628 x 528 pixel web camera that wirelessly transmits real-time video and audio, takes snapshots, pictures and even records voices, all while looking like a toy.
Of course, everything it sees is viewable from anywhere on the net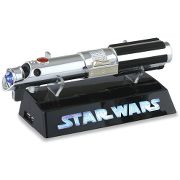 using a remote access feature, which also makes it easy to control the R2-D2 from anywhere in the world; take it for a spin or play any of the 11 different phrases and astromech droid sounds from the original Star Wars soundtrack.
The real 'drool' factor though that makes the R2-D2 Web Cam edition a must-buy for Star Wars geeks is the Star Wars light saber shaped remote, which controls 360 degree spins.
We love it. But, we can't still make up our mind on whether we want a robot that can see or follows our voice commands. You take the call. This one is available for US $349.95 from here.